I guess we all have the challenge of how to easily get a link or a phone number or some other strings of data from the computer to the mobile phone.
With the help of mobile barcodes and klipper, this is now possible in KDE Trunk to do easily. Place some data in clipboard, click on klipper and select Show barcode.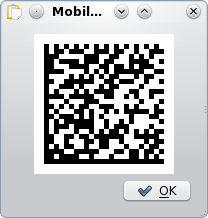 To read it, open the barcode app in your phone (mBarcode on n900 for example) and point it to your monitor.