So. Recently I blogged about Network status aware apps, and some time later, I got asked by a developer "How do I see if I'm online if I'm not using network manager?" and I replied with some dbus commands and he shook his head in despair. So, I ended up writing a small plasma widget targetting developers and very powerusers that can tell you the current state of the network and offers to add yet another 'manual' datapoint to the network status.
So. In line with another blog post of mine about getting the small utilities we all write and just let stay in a drawer (or somewhere in ~ on a local computer), I'm announcing it's existance. That application became famous and even mentioned in Linux Weekly News, but I don't expect that here. But anyways, here it is: http://quickgit.kde.org/?p=scratch/sune/networkstatus.git.
And a picture of it, it is not pretty but well, it's a tool mostly for developers, not for end users.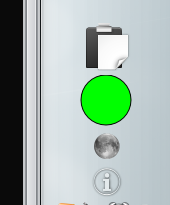 Have fun, and I hope to see more of these small projects from various people.